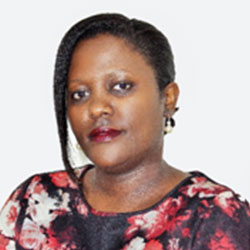 Ms. Patricia Amito Lutwama
Patricia Amito holds a Master's degree focused in Business Administration and Management from ESAMI and a Bachelor of Science degree in Quantitative Economics from Makerere University. Patricia has good demonstrated history working in the banking sector and experience working in other sectors such as Nonprofit Organizations, supporting diverse communication initiatives, project management and partnership management.
She currently serves as Head Communications and Corporate Affairs at Uganda Bankers Association (UBA) providing strategic leadership in the areas of stakeholder engagement and management and ensuring implementation of strategic communication initiatives that support the UBA mandate.
Patricia is also the Communications Manager at the Agent Banking Company of Uganda, providing technical support to the development and execution of the Agent Banking Communication strategy, coordinating stakeholder interests, management and documentation of progress in implementation of the project and driving awareness of the service among the public.