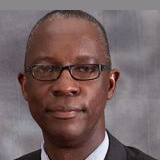 Mr. Wilbrod Humphreys Owor
Mr. Owor holds an MBA in strategic Management (ESAMI/MSM) and Degree in Bachelor of Commerce (Finance) of Makerere University.
Wilbrod who has been in the banking sector rising to the rank of Managing Director/Chief Executive Officer, has over 25 years of working experience spanning across key sectors of the economy including manufacturing, trade/commerce, International Development Agency/NGO world as well as consulting & advisory services.
He has business development and management experience in financial and consumer services institutions with practical experience in financial management, business development, skills development and banking financial products/services.